by Greg Harmon
Crude Oil has had a rough summer as the price has pulled back since the Summer solstice. But the price action shows that it might be ready for a rebound. The chart below gives two reasons to watch for it now.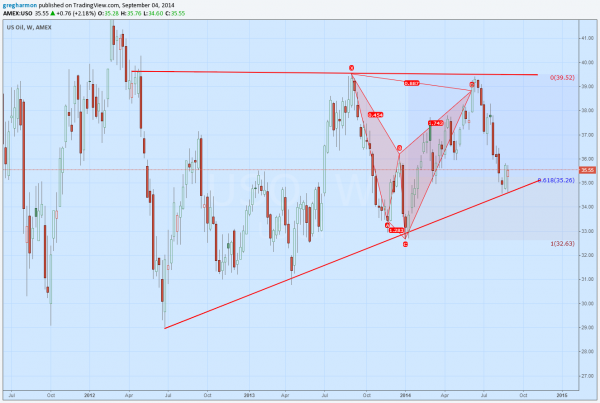 The first is that it hit rising trend support 2 weeks ago and followed that with a bullish engulfing candle higher last week. A continuation this week with a close Friday above 35.83 on the Oil ETF, $USO, would seal the deal for a reversal. The second is a play out of a harmonic pattern. The price action since this time last year has drawn out what is known as a bearish Shark harmonic pattern. Upon reaching point 'D' the pattern calls for a reversal, and price did fall. In fact the current bottom of the fall is at the 61.8% retracement of the pattern that the harmonic targets, a perfect palce for it to reverse back higher.
How high will it go? You will just have to watch and see but the 39.50 area has been resistance , creating an ascending triangle pattern. Often after these ascending triangles have 5 extreme touch points they look to break out of the pattern. This one has 6 extreme touches, so at 39.50 it may be ready for more. You just have to keep watching.