Tuesday was a powerful day in the market, maybe. The ranges for the
$

SPY
,
$

IWM
and
$

QQQ
were all bigger than Monday, and they all finished near their highs. Awesome. These all had outside days in the vernacular of the the bar chart. This could mean a bottom. And from a bastardized Japanese candlestick perspective they can be viewed as Bullish Engulfing candles. The real body of the candles was not officially big enough but the range makes it so. This needs to be confirmed but if it is can signal a powerful move higher, on the daily time-frame. Look at the daily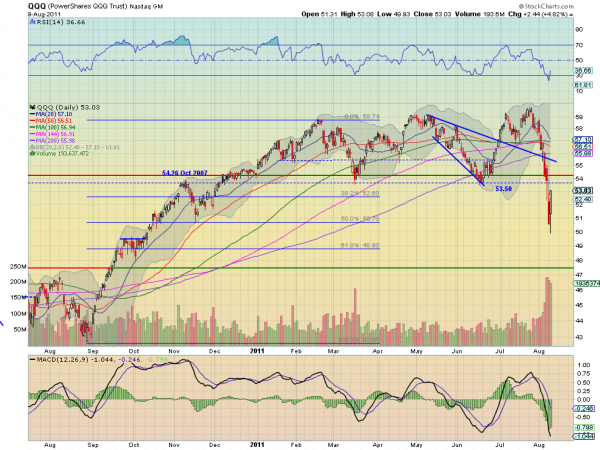 chart for the
$

QQQ
. The move Tuesday was massive, over 15%. And strong but just back into the Bollinger bands. It looks like a strong reversal if it is confirmed Wednesday. But what do longer time frames say? Look at the weekly chart below. The week through two days looks like a throw all your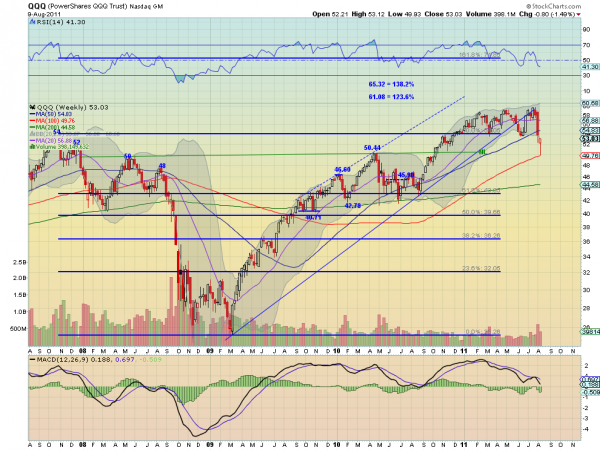 money back in move. A massive Hammer on support of the 100 week Simple Moving Average (SMA), near the neckline of the Inverted Head and Shoulders, and back in the Bollinger bands. But wait, it is only Tuesday, with three days to go in the week. What about the monthly view? From the chart below you can see that it has not moved back into the consolidation channel from the last 6
months yet. Hardly anything to get excited about. Until it can get over at least 53.50 and preferably 54.26 the trend is still down. THE TREND IS STILL DOWN. Don't let your bias get the best of you. The indexes may move higher but right now they may also be exhibiting the old dead cat bounce. Wait for confirmation.
See the original article >>