The S&P 500 showed signs of bottoming on Tuesday only to dash those hopes with a move back lower on Wednesday. The bottom may still be forming but there looks to be some volatility as it decides. If you are a day trader you are in heaven. If you try to place swing trades or position trades and are not on the sidelines watching, you are no doubt getting shredded. You already have your full allocation to Gold and US Treasuries. But frankly the parabolic rise in those asset classes has you feeling like lightening up a bit. There is nothing doing putting money to work in China or Emerging Markets as they are both falling fast as well. And Europe is just a mess. Cash is a fine alternative, but others have already weighed in on the virtues of a large cash allocation. But there is one other place that you may have overlooked because it is so obvious. One country keeps coming up as a horrific comparison to the US. One that has been floating in a lost Decade for about 15 years. Japan! What better place to put your money while the world is imploding than a country which has moved listlessly sideways for years. It has already imploded. Look at the weekly chart of the Nikkei (
$

NKY
) below. Notice the floor at 9,000 since early 2009 and holding in the range between 9,000 and 10,000 over this period. This looks like a good place to hide.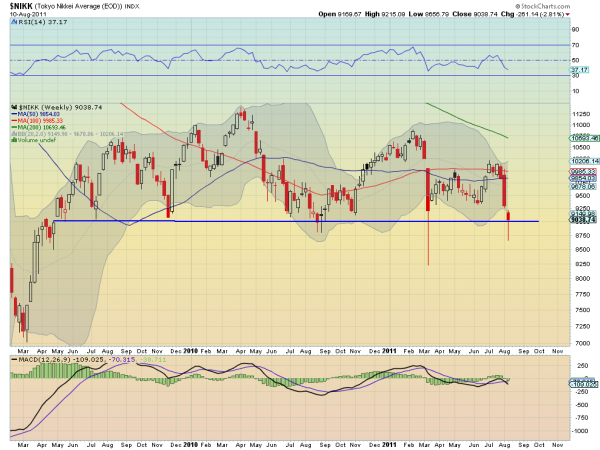 But it is even more persuasive when looking at the ratio chart of the Nikkei against the S&P 500 (
$

SPX
). The ratio broke above the shorter 10 month falling resistance line last week and this week is now over the longer term resistance line from mid 2009. It has a rising and strong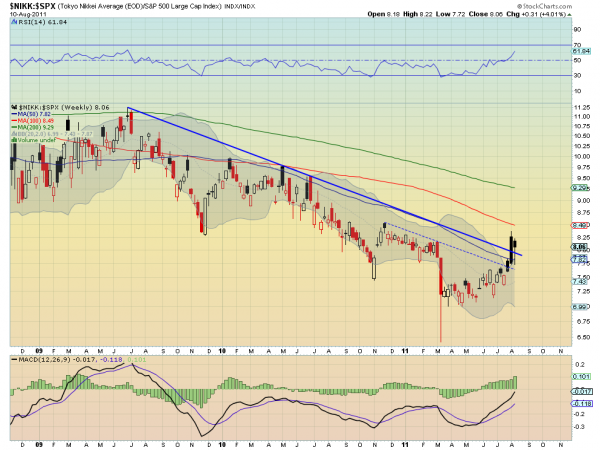 Relative Strength Index (RSI) and a Moving Average Convergence Divergence (MACD) indicator that is increasing. As a long short trade this looks good as well. So maybe it is time to think about turning Japanese.