US Treasuries, as measured by the iShares Barclays 20+ Year Treasury Bond Fund (ticker:
$

TLT
), have roared higher in a parabolic move. A flight to safety? But the the last couple of days there are signs of a possible pullback. When
$

TLT
is reviewed against the iShares S&P National AMT-Free Muni Bond Fund (ticker:
$

MUB
) and the SPDR Barclays Capital High Yield Bond Fund (ticker: JNK) it raises the question of whether there is a move to add risk happening or just a stretch to pick up yield. Let's take a look.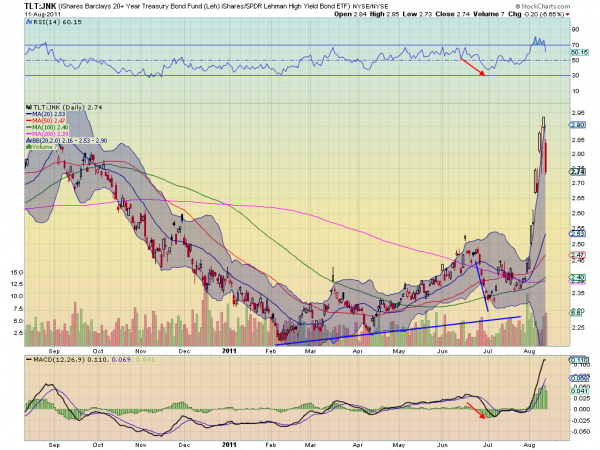 The
$

TLT
against
$

JNK
ratio chart above shows a strong move higher over the last two weeks as the flight to safety began. Peeking out of the Bollinger bands on Wednesday and then dropping hard on Thursday. It could still find support at the 2.66 level but with the strong move lower finishing on the low, it looks to continue down. Moving from Treasuries into High Yield is a clear sign of adding risk.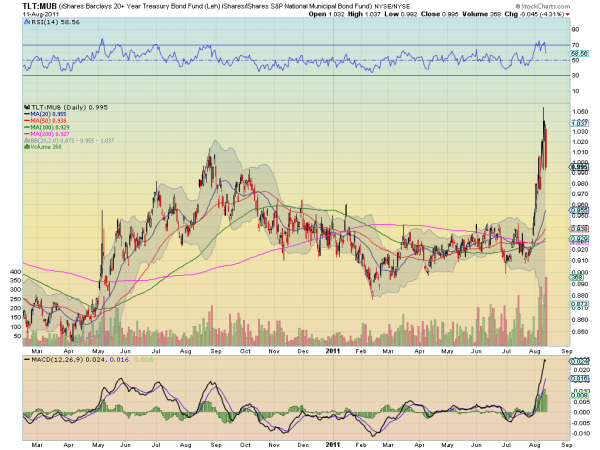 The
$

TLT
against
$

MUB
chart shows the same pattern. A move out of Municipals into Treasuries ending Thursday with a sharp move back into Muni's. Again this finished on the lows and bodes for more flow out of Treasuries. This strikes me as more of a stretch for yield, since the Muni's are often yielding more than Treasuries and are tax free.
So which is it? Risk on or a stretch for yield. Before you answer let me pose that perhaps they are one and the same. This is the start of the fiscal year for Municipalities and the first one with reduced Federal funding. So perhaps a move to Muni's is also a move to more risk. And with the move higher in Treasury prices a shift into High Yield could be just a move to increase income. So risk on and a stretch for income. Or maybe this is just a tired Treasury Bond that pulled back a bit before another leg higher. This will be easy to see if the
$

TLT
reverses on Friday or early next week.