By: Gregor_Horvat
S&P has been trading lower last week but then it reversed higher from 1625 area which is fine because we had five sub-waves down in wave (A), but we know that after every five wave move correction will follow and that is exactly what has been happing in this week.  Market rallied higher with corrective personality; wave (B) as labeled on the chart. In Elliott Wave theory wave (B) are against the larger trend which means that sooner or later we expect move to the downside!
The important thing that we need to understand is a five wave of decline from 1705, which in Ellliott Wave theory show us current direction of a trend. It means down!
S&P 500 4h
On the intra-day basis we can see some sharp reversal in trend after the NFP report. Well, there were speculations that if NFP will be better than expected then we could be look for tapering, but numbers came out worse than expected: 169K suggesting no tapering so soon, so USD is moving lower. Data also has a negative impact on stocks while the US bonds are rising. On US stocks futures we can see sharp sell-off, with the S&P Futures now testing the lower support line of an upward channel. If stocks will remain weak at the close today, then be aware of a 1620 break on the S&P early next week.
S&P 500 1h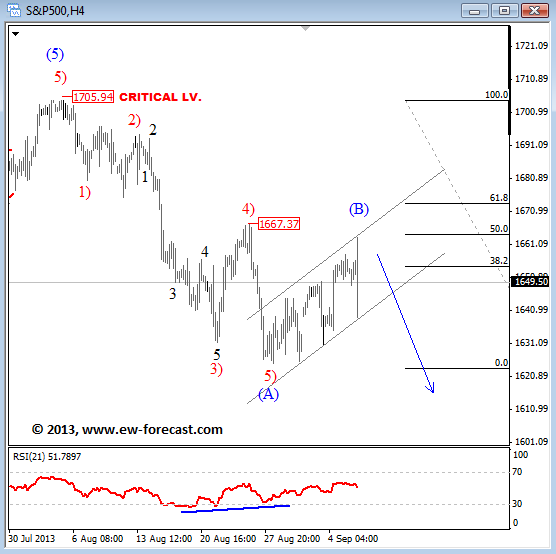 Written by www.ew-forecast.com | Try our 7 Days Free Trial Here
Ew-forecast.com is providing advanced technical analysis for the financial markets (Forex, Gold, Oil & S&P) with method called Elliott Wave Principle. We help traders who are interested in Elliott Wave theory to understand it correctly. We are doing our best to explain our view and bias as simple as possible with educational goal, because knowledge itself is power.