by Greg Harmon
With all of the focus on the short term, be it for Syria, the taper, debt ceiling, whatever, it pays sometimes to pullback and look at a bigger picture. A look at the weekly chart of the Russell 2000 ($RUT, $IWM) can give you just that. There are at least 3 signs that point to a possible move back higher if you are open to looking for them.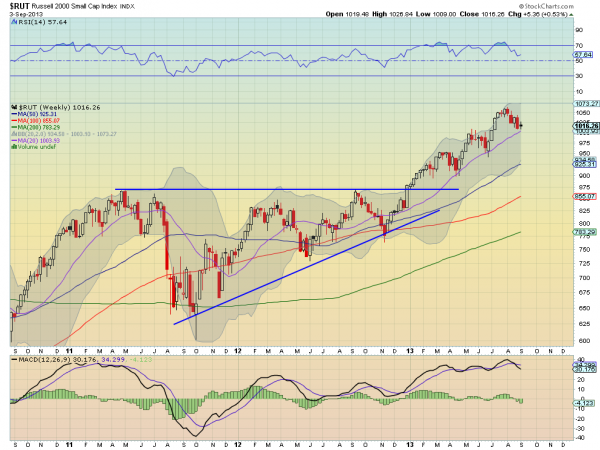 The Russell 2000 broke above an ascending triangle in January and has not looked back. The first sign that points higher is that the target for this breakout takes the index to 1125. The second sign is the rising 20 week Simple Moving Average (SMA). It has been support since December 2012 and is coming in to play right now. The third sign is a pattern of about 60 point moves higher since the first touch of the 20 week SMA in April. A 3 Drives pattern would complete at 1140 were it to pullback to the 20 week SMA before starting higher.
Holding the 20 week SMA is the key to this perspective and with a weekly chart that means sitting on your hands for a while to see. If you are a disciplined trade I am sure you will have no problem waiting to see how this pans out.