The higher retracement in gold prompted me to re-examine the Cycles Model. In doing so, I discovered that the red Master Cycle completed 235 days on June 28. In it were 4 Trading Cycles, averaging 58.5 days each and 5 Primary Cycles, averaging 47 days each. One of the ways to determine whether this is correct is that the lesser cycles will stretch or shrink to fit the Master Cycle, which we can see in the chart.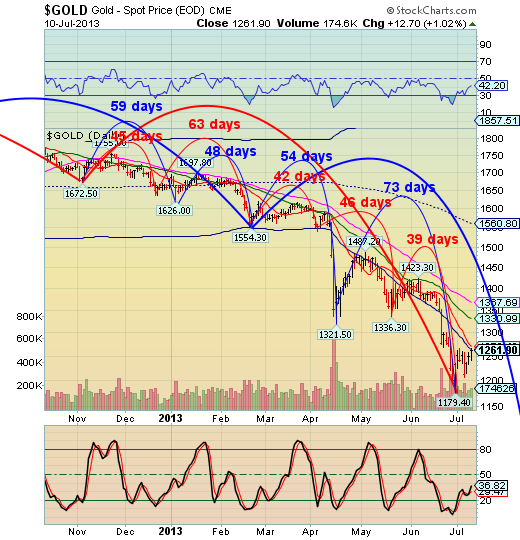 So you can see that the cycles are a complex, organic system, which follows rules within a larger context. In fact, the 25.8 year Cycle anniversary of the 1987 crash is coming up on August 8. I expect the current Master Cycle to "adjust" to that larger Cycle Timeframe, extending the Master Cycle another 41 days for a total of 276 days.
By the way, if you add 73 days from the "stretch" Trading Cycle to the 41 days left, you get a total of 114 days, making a closer-to-normal double Trading Cycle.
In the week ending July 6, the advance figure for seasonally adjusted initial claims was 360,000, an increase of 16,000 from the previous week's revised figure of 344,000. The 4-week moving average was 351,750, an increase of 6,000 from the previous week's revised average of 345,750.
This is putting a damper on the Pre-Market, which is reversing from its highs. The cash equivalent is still near 1670.00. However, today is still a major turn date, leaving the market 28-29 calendar days to make a Flash Crash low.