by Greg Harmon
After a 8 month run lower, the US Dollar looks to be breaking the trend against US Treasuries. The chart below shows the price ratio of the US Dollar Index ($UUP) since the beginning of the year measured in terms of the US Treasury ETF ($TLT) fell about 15% in a steady move to start the year that slowed into the summer. This should come as no surprise as the US Dollar was steady all year until recently while US Treasuries have been in high demand. But with the last two weeks that trend is changing. Relative demand for the US Dollar Index has outstripped that for US Treasuries as the US Dollar Index has been strengthening. This may just be a blip in the markets but if the ratio can get above the red line it will confirm a reversal. The momentum indicator RSI is picking up, supporting that event happening.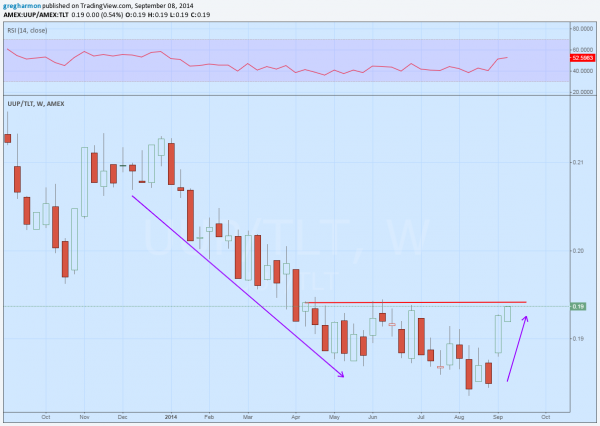 There are all sorts of macro economic interpretations that can be used to explain this. The week Sterling and Euro are leading to a stronger Dollar. Demand for US Treasuries is slowing as the conflict in the Ukraine settles. An increase in housing demand may lead to higher interest rates and or the Federal Reserve may see the growing economy as a reason to start tightening monetary policy. All of these or none of these may be true. But what are you going to do about it? The statements above may lead you to develop some macro economically driven trade. But the price action in the chart gives you an easy trade to put on.
Buy the US Dollar Index ETF UUP and sell the US Treasury ETF TLT
After you put that on you can come up with your own macro reason for it to work to talk about at cocktail parties and tailgates. But let your money follow the price action.