By: Gregor_Horvat
On Gold we presented  a triangle idea few weeks back, with wave C rally up to 1380/1400 resistance area. Market sold of sharply from that levels  in March and it seems that price is ready to continue lower in April as current decline looks impulsive, labeled as wave (a). With that said, we suspect that wave D will fall down to around 1240/1270 zone after a completed sub-wave (b) that may look for a top formation in the next week or two in 1320/1360 area.



GOLD Daily Elliott Wave Analysis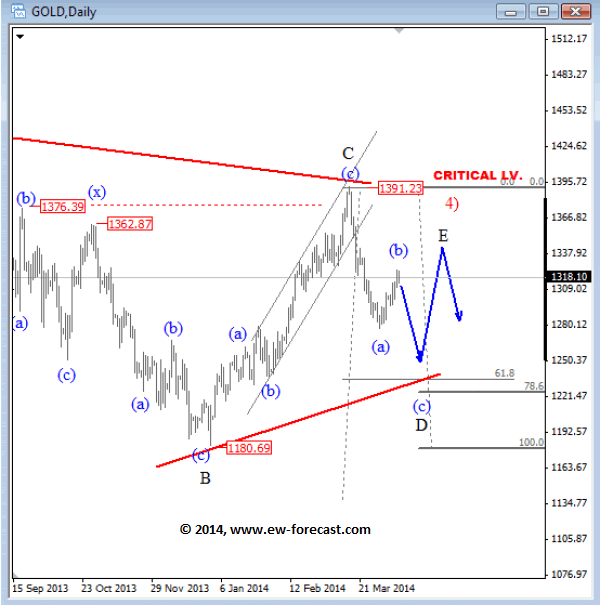 GOLD Four Hour
Gold has recovered up to 1320-1342 resistance area that we highlighted it several times in our past updates. We also noted that bearish reversal could be near if we consider a double zigzag from the low. Well, market fell very sharply yesterday and finished the day around 1300 area which suggests a completed recovery in wave (b). So we anticipate further weakness now, ideally market will move beneath 1277 by the end of the week. 1331 is now new short-term critical resistance.
GOLD 4h Elliott Wave Analysis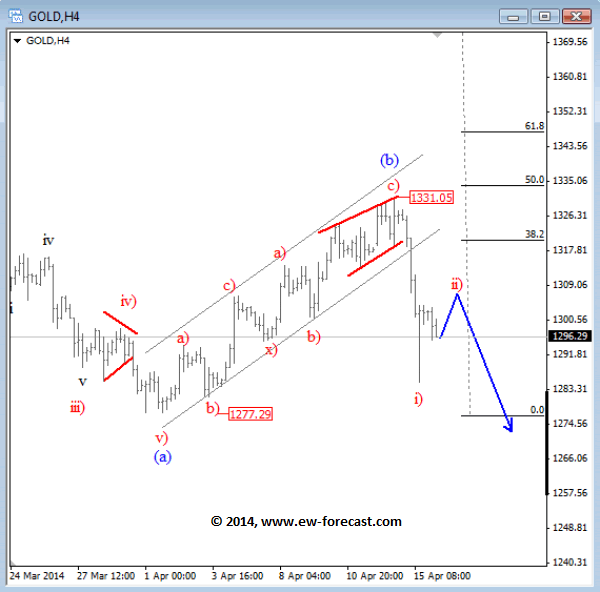 GOLD One Hour
Yesterday some commodities fell sharply, and gold was no expectation. We have seen a very powerful bearish move away from 1330 that has unfolded in five legs so we think that this market will go even lower, but after a three wave bounce. We see nice resistance zone for wave c at 1310-1315.
GOLD 1h Elliott Wave Analysis