By: P_Radomski_CFA
Briefly: In our opinion short speculative positions in gold (half), silver (half) and mining stocks (full) are justified from the risk/reward perspective.
Generally, everything that we wrote in our previous alerts remains up-to-date - precious metals are likely to move lower in the coming weeks - and the thing that we would like to emphasize today is that even if we see an upward correction, it will likely not be anything more than just that - a correction. Let's take a look at the mining stocks chart (charts courtesy of http://stockcharts.com).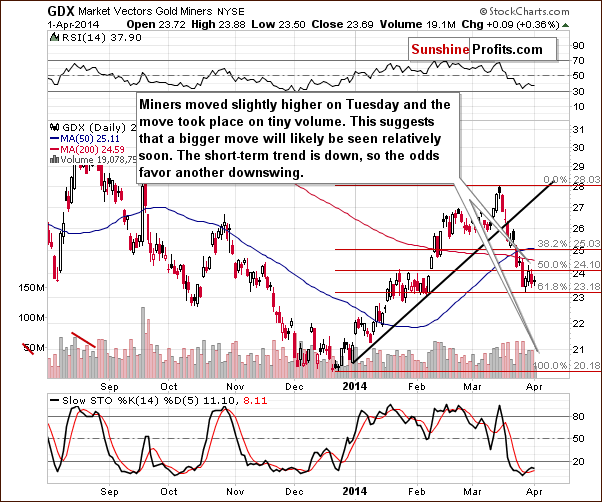 Miners bounced after moving to the 61.8% Fibonacci retracement level and no wonder - the preceding decline had been quite sharp. We could have written that they paused, as the move higher was rather small. Tuesday's small upswing took place on very low volume, which suggests that we are right before a more significant move - the question is what direction miners will take.
The preceding short-term move was down, so based on the above chart it's more likely that the next move will be to the downside as well. However, even if we see a move to $25 or so in the coming days, it will still look like a correction.
Why could we see a temporary move higher here?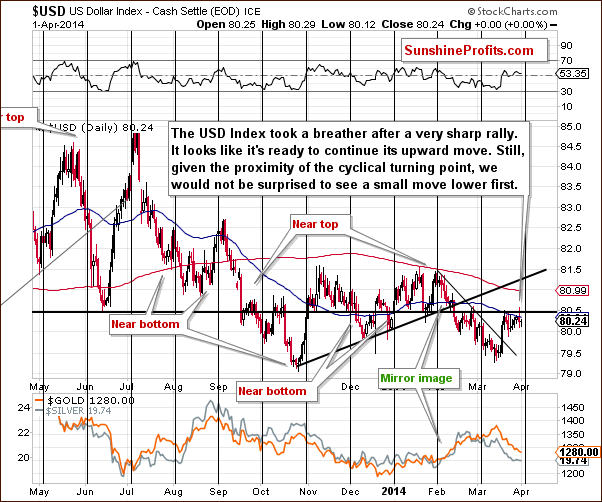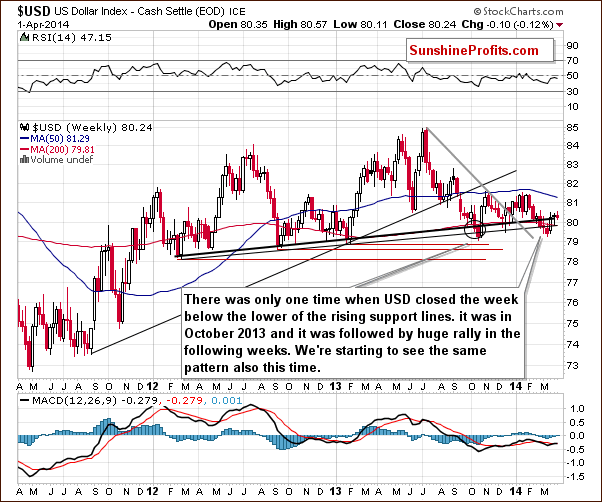 The USD Index is about to reach its cyclical turning point. It's a tough call to determine the short-term action based on it, as the most recent move was horizontal - the USD Index has been consolidating in the second half of March.
The move that preceded the consolidation had been up, so the next move is also likely to be up, especially that we are after a long-term, medium-term, and short-term breakouts. However, on a very short-term basis, we can't rule out a dip based on the turning point alone.
As mentioned previously, the situation in the precious metals market and in the USD Index is just as it was in the previous days. The USD index is likely to move higher (even if it declines a bit in the first part of April) as it already paused after a short-term breakout and when it does rally, we will be likely to see another slide in the precious metals sector.
To summarize:
Trading capital (our opinion): Short positions: gold (half), silver (half) and (full) mining stocks.
Stop-loss details:
- Gold: $1,342 - Silver: $20.85 - GDX ETF: $25.6
Long-term capital (our opinion): No positions Insurance capital (our opinion): Full position