by Greg Harmon
Where Lorde is getting tired of being told to put her hands up in the air, I am getting tired of hearing the markets are rigged. In what I hope is the last time I hear it, Bob Pisani spent 10 minutes talking about it after he was given an award at the MTA Dinner last night. It has a overall a good speech and he also does not want to hear it, but talking about it for 10 minutes is an odd way to explain how you don't want to hear it. End the discussion and lets move on already.
And for us technical geeks I have just the thing to shift focus too. The Dow Theory confirmation signal that came Thursday. Or maybe did not show up. This has the makings of a real controversy. Here is the crux of this exciting issue. The Dow Jones Industrial Average made a new high touching 16588.25 in December 31, 2013. And Thursday it touched 16604.14 as the intraday high. There you have it. A new all time high in the Industrials to go along with the new all time high in the Transports. The Dow Theory confirmation signal. Primary trend higher is reconfirmed.
But not so fast. Back in the days of Dow the only price there was to work with was the closing price. And if you look at the closing price on December 31, 2013 it was 16576.66. Thursday's closing price was only 16572.55. In fact Wednesday's close at also fell short. So to purists there is no confirmation of a new all time high. It still needs 4.11 points higher on a closing basis to achieve it. You can argue that in today's world with instantaneous information sharing that the intraday level should suffice. But the counter argument is that this theory has stood for a very long time. Should it be messed with?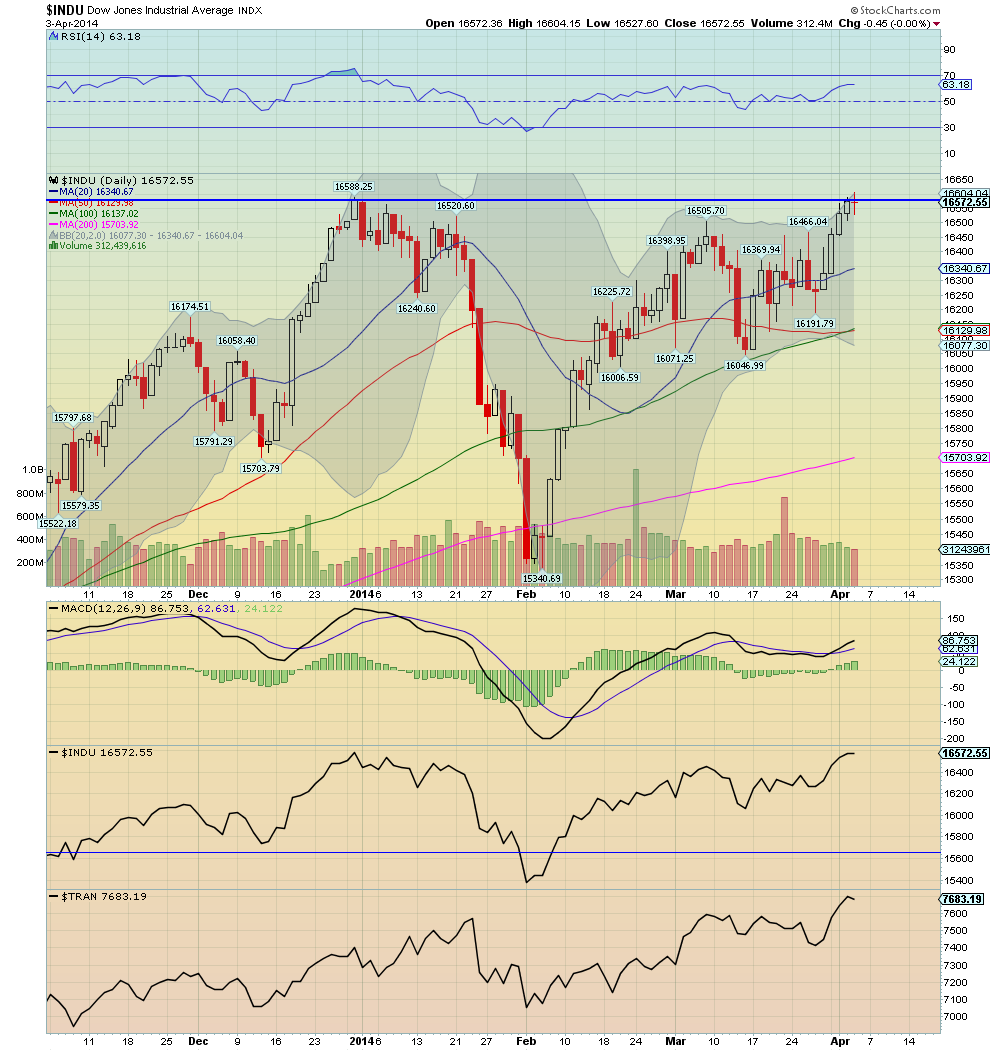 As a back story there are many that look at the Dow Theory with the Transports and Industrials (two of the 3 sectors including Utilities at the time) and see it as outdated. They have replaced them with the S&P 500 and the Nasdaq 100. Maybe the Dow Theory does not matter. The plot thickens. And then there are so many other indicators and signals that many question what value Dow Theory carries.
To my perspective it carries a lot of weight because there are a lot of people that use it. But there are many other indicators and signals that also carry a lot of weight. Using many of them at once, what I call the mosaic approach, reduces the reliance on one quirky signal. I come down on the side of the the Industrials still needing to confirm on a closing basis. Where do you stand in this controversy.